Ashes to Ashes took a long time to actually "form" as a band and even then – it was by accident….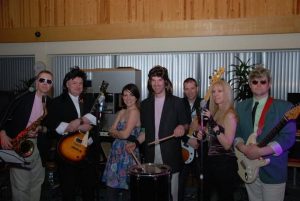 Initially the band started as a group of work colleagues who would form a band with whoever was going to be at the office Christmas party, rehearse for a month or two and then split until the following year. One early version was a ska band called MadnIS (we all worked for an office known as Information Systems or IS for short). A couple of years later in 2010, we decided to do an 80s Christmas Party – and after the Gene Hunt series – called ourselves AshIS to AshIS. Whilst rehearsing for this party, someone pointed out that their better half had never seen them play…. So a public gig was secured as a one-off. At this gig we decided that we would consider doing this as a 'full-time' band – if there was enough interest outside of friends and family. On 21st January 2011, 7 nervous civil servants played Boomerangs on Mutley Plain, with a brief that if asked where we playing next, to find out if the person asking had any connection to a band member…. We decided that if three strangers asked that would be enough to give it a go. As it turned out… we got 4 and so the band formed. Fortunately for us – one of our members had plenty of experience in playing with bands so knew that we needed to spell our name correctly (easier to just say the name without explaining how it should be spelled) and was able to help the rest of us as we learned the ropes.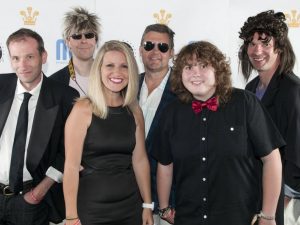 From that 7-piece line-up, we lost one of our 4 singers after a couple of months and about a year later the lead guitarist left, which meant a switch for Mike from bass to lead guitar. This line-up (Adrian on drums and backing vocals; Colin – Lead vocals and rhythm guitar, Jon – Keyboards and Saxphone; Lauren – bass and backing vocals; Mike – Lead guitar and Nikki – lead vocals and percussion), was the longest serving one of the band lasting nearly 5 years.
This also entailed the first non-staff member joining the band – although Lauren's parents both worked for the same employer as the rest of us, so she was practically "staff", along with the rest of us…..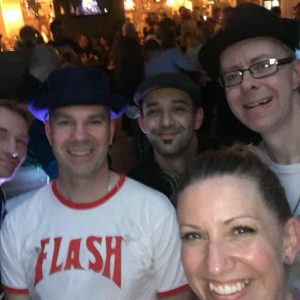 After Colin and Lauren left the band we recruited Mat on bass with Ade taking on lead vocal duties for some of the male lead songs. The Covid pandemic led to two more changes as Nikki and Mat no longer felt they continue giving the necessary commitment to the band so they departed with our best wishes and Danny (bass) and Donna joined to give us our first 'post-covid' line-up.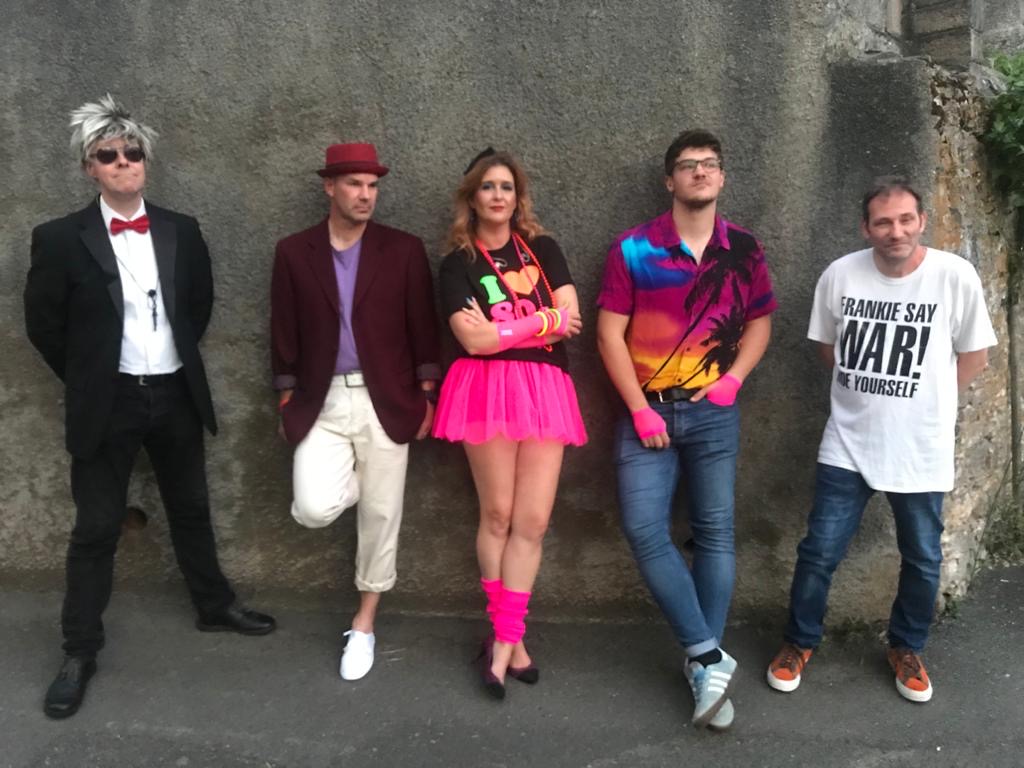 Danny has recently changed job which meant that he felt he could no longer give us the dedication required to be one of the most professional bands in the South West. This has resulted in us recruiting Nick as our 4th permanent bassist and in him completing the line up we have today. Although there are several 80s acts based in and around Plymouth, Ashes to Ashes are the oldest one still performing today and the experience shows in our dynamic gigs.